Multiplication Table 9 chart is provided here on this website.  Users are now no need to worry about time and money as they visited here, where they find the different collection of multiplication table charts at free of cost. If you want to learn table 9 as a beginner learner then it is advised you to make use of these multiplication chart templates available here.  
Multiplication Table 9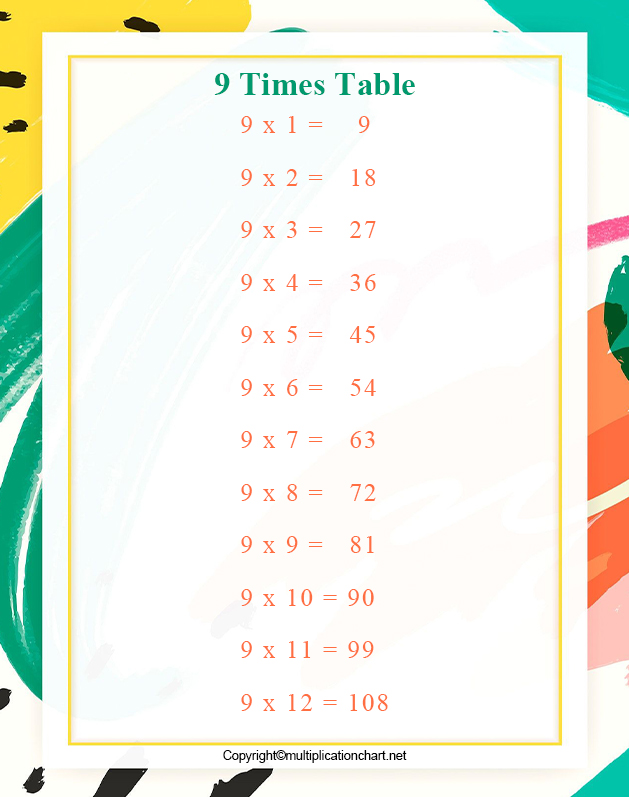 Users do not need to create an account or take any subscription to download these tables templates. You did not face any conflicts while downloading these multiplication tables charts. They are allowed to just click on the download option and it automatically starts downloading in the PDF format in your system storage. Memorizing the table with the multiplication times chart available here helps the students in fast multiplications in the competitive tests also, where a specific time period is allotted to do the calculations. So it is recommended to everyone to download and learn this multiplication table given below on this website. 
9 times 1 = 9
9 times 2 = 18
9 times 3 = 27
9 times 4 = 36
9 times 5 = 45
9 times 6 = 54
9 times 7 = 63
9 times 8 = 72
9 times 9 = 81
9 times 10 = 90
9 times 11 = 99
9 times 12 = 108
9 times 13 = 117
9 times 14 = 126
9 times 15 = 135
9 times 16 = 144
9 times 17 = 153
9 times 18 = 162
9 times 19 = 171
9 times 20 = 180
9 times 21 = 189
9 times 22 = 198
9 times 23 = 207
9 times 24 = 216
9 times 25 = 225
Times Table 9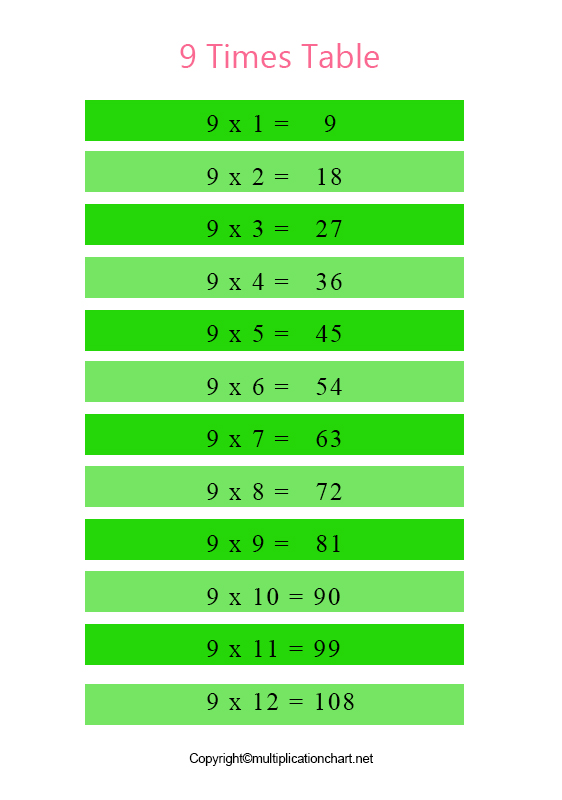 If you want to put some extra effort into your study to grow or improve in your mathematics skills. Then you must try this multiplication chart 9 worksheets available here. You can download or take a print out of these multiplication worksheets so that your kids can practice or check their improvement in the learning times table.  
Multiplication Chart 9
Most of you are related to that time when you use to learn the tables from the typical multiplication charts, which comes in the hard copy format form from the market but now in this digital era, things are quite changed. You can easily get any type of multiplication tables to chart online from here very easily.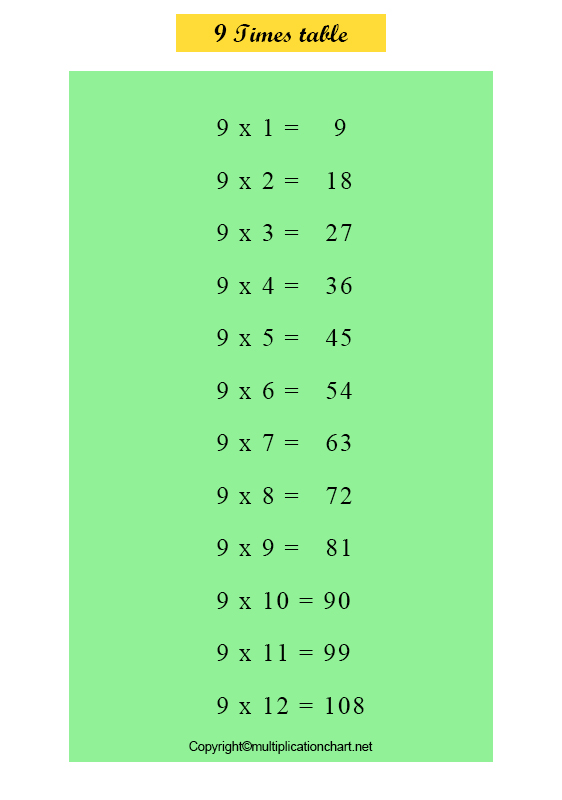 The multiplication times table 9 chart available here is very simplified and interesting. It can suit the learning pattern of every type of learner. Therefore you can definitely offer this multiplication chart to your kids to make them learn this table of 9. 
Multiplication Table 9 Chart
The worksheet multiplication chart is the best option for distance learning. The table is taught to the students who are not physically present in the classrooms. Teachers can share multiplication table charts to the long-distance learning students or kids, who want to learn tables right from any location and to check their improvement of learning. An online performance assessment can also make by teachers using this worksheet provided here.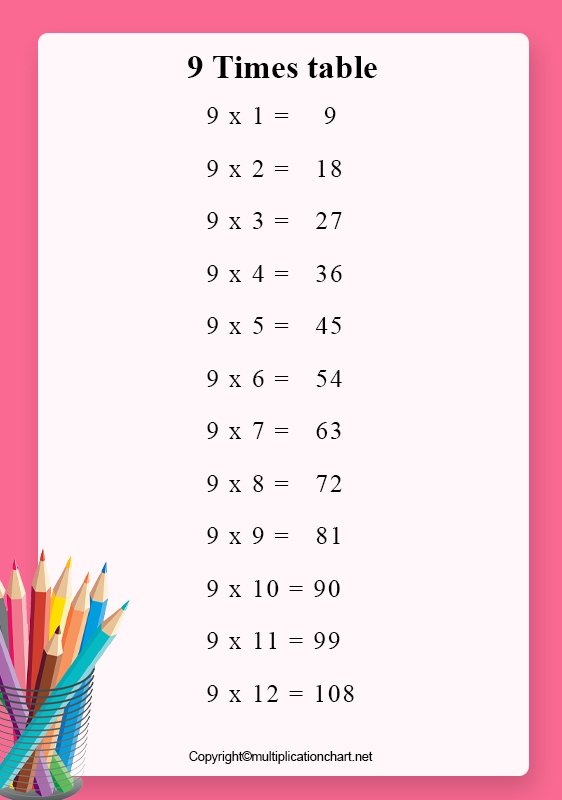 You can also share it with your teachers, classmates, friends, etc very easily with no issue or error. We hope from the given list of these multiplication table charts. You will get the wanted time table charts accordingly and improve your skillset.