Multiplication table 3 is one of the most basic tables that you will find from here in various layouts and designs. These times table 3 charts are meant for the playschool or the nursery kids. This table chart is suitable for all the kids from any class. You can get the complete table of 3 in the simplified and easy format from here.  The printable time's table 3 formats are provided here which is beneficial for the kids who just getting started to learn the basic tables, to get a good knowledge of mathematics. 
Multiplication Table 3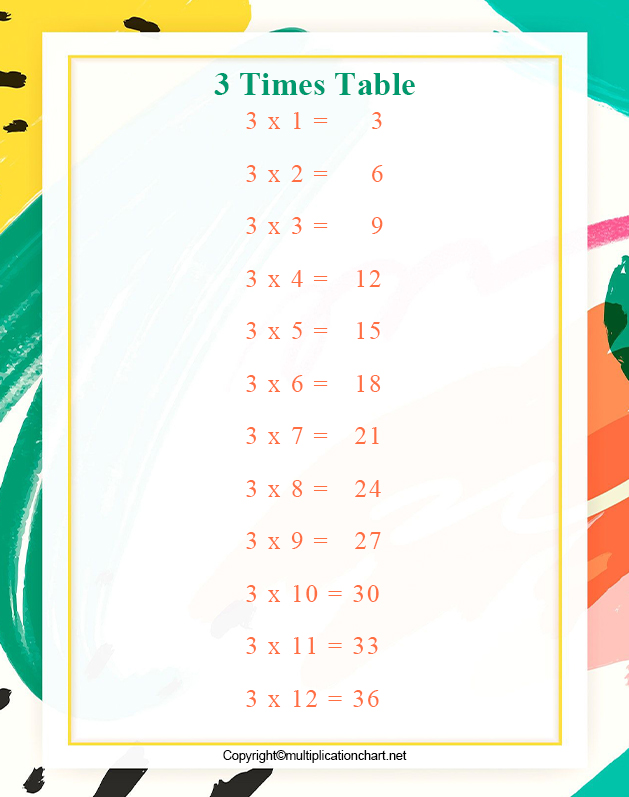 The multiplication chart available here are fully customizable & editable. you are allowed to modify these tables templates after downloading it from here according to your learning specifications. This will save your time and money as you would not need to design this chart on your own by charging any amount of money.
3 times 1 = 3
3 times 2 = 6
3 times 3 = 9
3 Times 4 = 12
3 times 5 = 15
3 times 6 = 18
3 times 7 = 21
3 times 8 = 24
3 times 9 = 27
3 times 10 = 30
3 times 11 = 33
3 times 12 = 36
3 Times 13 = 39
3 Times 14 = 42
3 Times 15 = 45
3 Times 16 = 48
3 Times 17 = 51
3 Times 18 = 54
3 Times 19 = 57
3 Times 20 = 60
3 Times 21 = 63
3 Times 22 = 66
3 Times 23 = 69
3 Times 24 = 72
3 Times 25 = 75
The multiplication tables 3 templates provided here are free for all the users or learners who visit this website. As we know that these multiplication tables charts are the basic need of kids. So keeping this into consideration these chart templates are designed in colorful & animated styles to make the fun learning for your kids. 
Times Table 3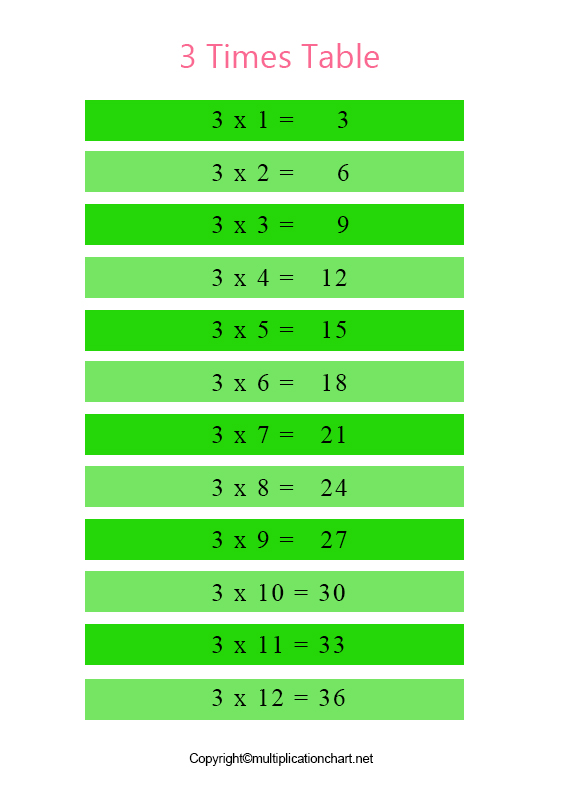 It is very simple to learn and retain the multiplication table of 3. In this chart available here, you will find out the products of 3 with the other numbers which result in the multiplication table. Here we have kept these templates very simple and colorful which will peak in the learning capabilities of your kids. So that they can catch it easily with no conflicts. 
Multiplication Chart 3
The worksheet multiplication tables templates are also provided here which helps the teachers to taught the kids and with these format tables. You can also make your learning assessments according to your needs.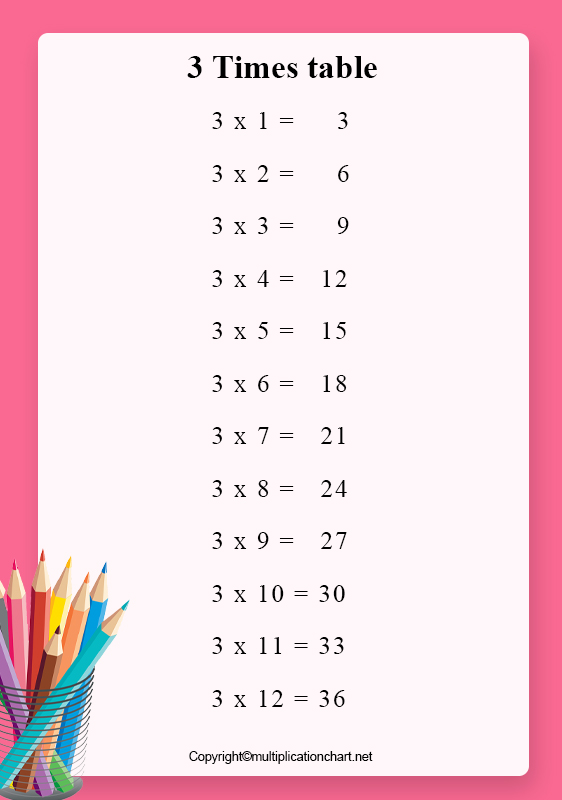 Multiplication Table 3 Chart
The multiplication table of 3 provided here, is essential for the students to learn or memorize it. Which will helpful for them in fast calculation techniques. It is the key to make your basics of mathematics strong for further use. The tables of 3 provided here are in full High definition quality that makes it very clear and easily understandable. Learners of any age group can read or understand it easily with no error.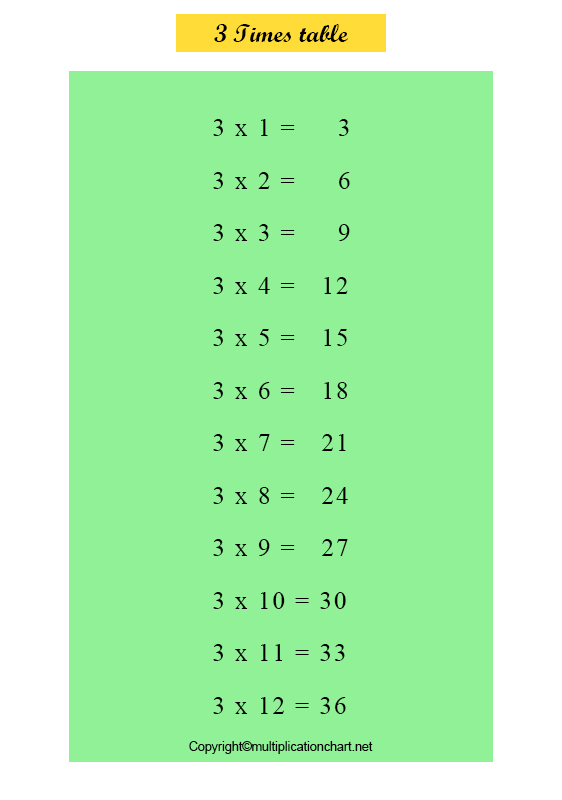 If you want your kids to have a bright future then It is advised you to download these multiplication tables charts templates from here at free of cost. You can also take a printout of it in any size sheet or stick it on the wall. So as a kid you can keep your eyes on it and learn the tables anytime.